>

THE SPANISH CIVIL WAR
THE CONDOR LEGION



COND-05P Oblt. Hans Schmoller-Haldy, 3.J/88 Legion Condor (1pc) US$33

The first plane to be produced for this series
is the ME109-E flown by Oblt. Hans Schmoller-Haldy.
The "Mickey Mouse" was the Steffel-Emblem of 3.J/88,
while the Beer Mug was Oblt. Schmoller-Haldy's personal emblem.
The CP stood for "The Order of Cardinal Puff",
which apparently was a pilots beer club founded in Belgium.
Schmoller-Haldy did not score any kills in Spain.

Schmoller-Haldy went on to fight in Poland and France
during the second world war,
and was wounded in action in Russia on February 23rd, 1942.
He survived the war.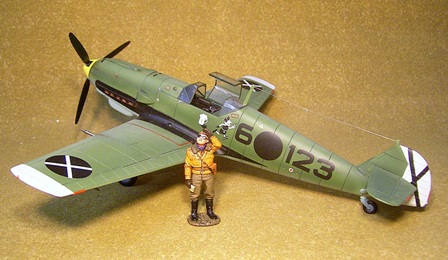 COND-05P & COND-05





We now accept PAYPAL,
to purchase your figures please send your order by e-mail to
inquiry@johnjenkinsdesigns.com
after checking that everything is available,
you will be billed via PAYPAL.
your order will be shipped on confirmation of payment.
worldwide airmail 12%
(minimum postage us$10)


JOHN JENKINS DESIGNS
UNIT 6H, TOWER 1,
KING LEY IND. BUILDING,
33-35 YIP KAN STREET,
WONG CHUCK HANG,
HONG KONG,
tel/fax; 852 2553 9313