>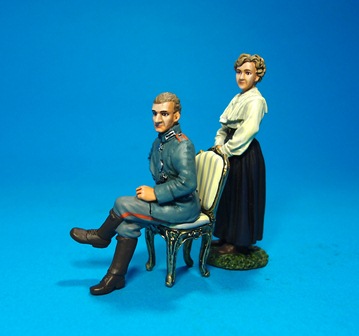 ACE-15P Udet and Lola (3pcs) US$79


Ernst Udet (26 April 1896 - 17 November 1941)
was the second-highest scoring German flying ace of World War I.
He was one of the youngest aces and was the highest scoring German ace
to survive the war (at the age of 22).
His 62 victories were second only to Manfred von Richthofen,
his commander in the Flying Circus.
Udet rose to become a squadron commander under Richthofen,
and later, under Hermann Göring.
Udet spent the 1920s and early 1930s as a stunt pilot,
light aircraft manufacturer, and playboy.
In 1933, he joined the Nazi Party and became involved in
the early development of the Luftwaffe.
He used his networking skills to be appointed as director of
research and development for the air force.
He was especially influential in adoption of dive bombing techniques
and the development of the Stuka dive bomber. By 1939,
Udet had risen to the post of Director-General of Equipment for the Luftwaffe.

Udet had the letters "LO" painted on the side of his aircraft.
This was an abreviation for his fiances nickname "Lola", Eleanore Zink.

He married "Lo" on February 25, 1920; however,
the marriage lasted less than three years.
They divorced on February 16, 1923.
It has been said that Udet had many lovers.


ACE-15 & ACE-15P





We now accept PAYPAL,
to purchase your figures please send your order by e-mail to
inquiry@johnjenkinsdesigns.com
after checking that everything is available,
you will be billed via PAYPAL.
your order will be shipped on confirmation of payment.
worldwide airmail 12%
(minimum postage us$10)


JOHN JENKINS DESIGNS
UNIT 6H, TOWER 1,
KING LEY IND. BUILDING,
33-35 YIP KAN STREET,
WONG CHUCK HANG,
HONG KONG,
tel/fax; 852 2553 9313