>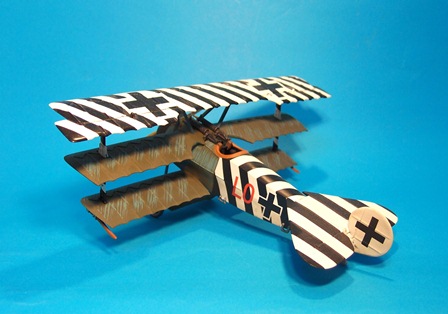 ACE-15 FOKKER DR1 586/17, Jasta 4, May/June 1918 (1pc) US$218


Ltn. Ernst Udet took over the black & white striped DR1 586/17 ,
which had originally been flown by Ltn. Hans Kirschstein
who had returned to Jasta 6.
Udet took command of Jasta 4 and flew the aircraft called the "optical illusion",
the stripes were designed to confuse an enemy attacking the plane.
He added his personal marking "LO" and flew this aircraft
until Jasta 4 was re-equipped with the Fokker D.VII.
Udet had the letters "LO" painted on the side of his aircraft.
This was an abreviation for his fiances nickname "Lola", Eleanore Zink.
He married "Lo" on February 25, 1920; however,
the marriage lasted less than three years.
They divorced on February 16, 1923. It has been said that Udet had many lovers.


ACE-15 & ACE-15P





We now accept PAYPAL,
to purchase your figures please send your order by e-mail to
inquiry@johnjenkinsdesigns.com
after checking that everything is available,
you will be billed via PAYPAL.
your order will be shipped on confirmation of payment.
worldwide airmail 12%
(minimum postage us$10)


JOHN JENKINS DESIGNS
UNIT 6H, TOWER 1,
KING LEY IND. BUILDING,
33-35 YIP KAN STREET,
WONG CHUCK HANG,
HONG KONG,
tel/fax; 852 2553 9313