>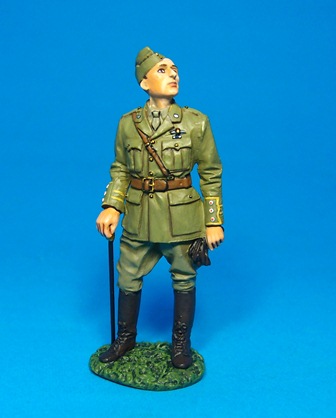 ACE-14P Captain William G. Barker, VC, DSO & Bar, MC & Two Bars.
3 November 1894 íV 12 March 1930 (1pc) US$36


William George Barker VC, DSO & Bar,
MC & Two Bars (3 November 1894 íV 12 March 1930) was a Canadian First World War
fighter ace and Victoria Cross recipient.
He is the most decorated serviceman in the history of Canada,
and indeed in the history of the British Empire and Commonwealth of Nations.

Barker returned to Canada in May 1919 as the most decorated Canadian of the war,
with the Victoria Cross, the Distinguished Service Order and Bar,
the Military Cross and two Bars, two Italian Silver Medals for Military Valour,
and the French Croix de guerre.
He was also mentioned in despatches three times.
The Canadian Daily Record, a publication of the Overseas Military Forces of Canada,
wrote in December 1918 that William Barker of Dauphin,
Manitoba was the Canadian holding the record for "most fighting decorations" in the war.
No other Canadian soldier, sailor or airman has surpassed this record,
and the Canadian War Museum exhibit, located in Ottawa, Ontario,
states: "Lieutenant Colonel William G. Barker, one of the legendary aces of the war,
remains the most decorated Canadian in military service."
A plaque on his tomb in the mausoleum of Toronto's Mount Pleasant Cemetery,
officially unveiled on September 22, 2011, describes him as
"The most decorated war hero in the history of Canada,
the British Empire, and the Commonwealth of Nations."
Only two other servicemen in the history of the Commonwealth
or Empire have received as many British medals for gallantry.
These were Mick Mannock and James McCudden, and like Barker,
both were "scout pilots" in the First World War. Barker,
Mannock and McCudden each received six British medals,
including the Victoria Cross.
McCudden was also awarded a French Croix de Guerre.
But with his three foreign medals and three British Mentions in Despatches,
Barker received a total of 12 awards for valour.


ACE-14 & ACE-14P





We now accept PAYPAL,
to purchase your figures please send your order by e-mail to
inquiry@johnjenkinsdesigns.com
after checking that everything is available,
you will be billed via PAYPAL.
your order will be shipped on confirmation of payment.
worldwide airmail 12%
(minimum postage us$10)


JOHN JENKINS DESIGNS
UNIT 6H, TOWER 1,
KING LEY IND. BUILDING,
33-35 YIP KAN STREET,
WONG CHUCK HANG,
HONG KONG,
tel/fax; 852 2553 9313