>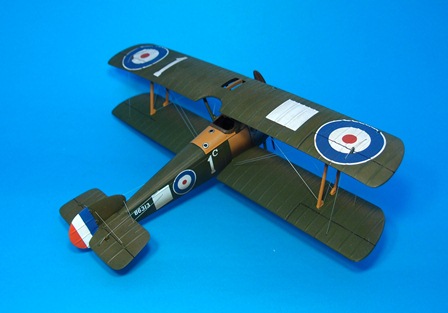 ACE-14 Sopwith Camel B6313, No.28 Sqn, RFC, October 1917 (1pc) US$188


Of the 5,734 Sopwith Camels delivered (5,914 were ordered),
none is more famous than that flown by the Canadian ace, William George Barker - B6313.
B6313 was completed by the Sopwith Aviation Co. Ltd of Kingston-on-Thames
and delivered to the Aeroplane Acceptance Park at Kenley on 11 September 1917.
On the 24th September B6313 went to No.28 Sqn RFC based at Yatesbury.
No.28 Sqn was getting ready to go to France
and on 2 October a new ,C, Flight commander joined the squadron.
William George Barker and B6313 were to be together for the next year.
On 8 October 1917, No.28 Sqn flew to France,
and later that same day Barker shot down an Albatros D.V,
which he didn't claim as he wasn't supposed to cross the lines.
The squadron officially began operations on 18 October,
and Barker claimed a green Albatros D.III shot down on 20 October.
By the end of the month he had scored two more times,
when No.28 Sqn. was notified that it was to be transferred to the Italian front.

At this time B6313 carried the No.28 Sqn RFC's marking of a white square on the fuselage and upper wing.
Additionally each aircraft carried an identifying number and flight letter.


ACE14 & ACE14P





We now accept PAYPAL,
to purchase your figures please send your order by e-mail to
inquiry@johnjenkinsdesigns.com
after checking that everything is available,
you will be billed via PAYPAL.
your order will be shipped on confirmation of payment.
worldwide airmail 12%
(minimum postage us$10)


JOHN JENKINS DESIGNS
UNIT 6H, TOWER 1,
KING LEY IND. BUILDING,
33-35 YIP KAN STREET,
WONG CHUCK HANG,
HONG KONG,
tel/fax; 852 2553 9313