>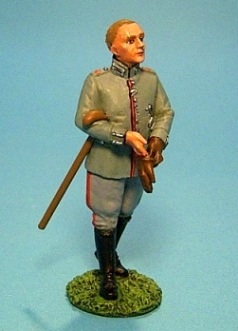 ACE-11P Lt.d.R. Friedrich "Fritz" Kempf (1pc) US$36


Lt.d.R. Friedrich " Fritz" Kempf,
had "only" four confirmed victories,
thus he didn't qualify under the usual definition of ace.
However, there is no doubt he was a seasoned
and valued member of Jasta Boelcke,
and a well respected Kette leader.
He was born in Freiburg on the 9th May 1894.
On 1 October 1913 he enlisted in the Badische Infanterie-Regiment Nr. 113 as a one-year volunteer.
He was with this unit when the war started, and saw service on the Verdun front.
After flight training he was assigned to F.E.A. 3 at Gotha in May 1915,
then to the Militär-Flieger-Schule in Freiburg.
He completed his training at F.E.A.9 in Darmstadt by 4th January 1916.

He was assigned to Jasta 20 of KAGOHL 4 at Köln,
the same unit as another future Jasta Boelcke member, Hermann Frommherz,
and received his promotion to Vzfw. on 17th January.
He saw action on the Verdun front, the Somme,and in Romania and Macedonia.
On 9th September he received his promotion to Ltn.d.R.

He was assigned to Jasta Boelcke on 28th March 1917,
and scored his first victory on 29 April - a BE2c near Le Pave.
His second was a Sopwith Pup on 5 June at Masnieres,
then the 3rd was a Camel on 20 Oct. at Gravenstafel.
He was sent to Jasta-Schule I as an instructor,
returning to Jasta Boelcke in January 1918.
On 8 May he scored his fourth victory,
a Sopwith Camel west of Steenwerke - he was flying Dr.I 493/17 at the time.
He returned to Jasta-Schule I on 18 August.

He died in August 1966.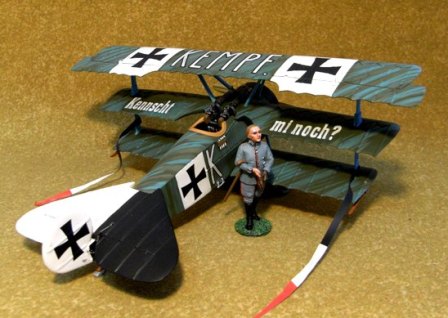 ACE11 & ACE11P





We now accept PAYPAL,
to purchase your figures please send your order by e-mail to
inquiry@johnjenkinsdesigns.com
after checking that everything is available,
you will be billed via PAYPAL.
your order will be shipped on confirmation of payment.
worldwide airmail 12%
(minimum postage us$10)


JOHN JENKINS DESIGNS
UNIT 6H, TOWER 1,
KING LEY IND. BUILDING,
33-35 YIP KAN STREET,
WONG CHUCK HANG,
HONG KONG,
tel/fax; 852 2553 9313