>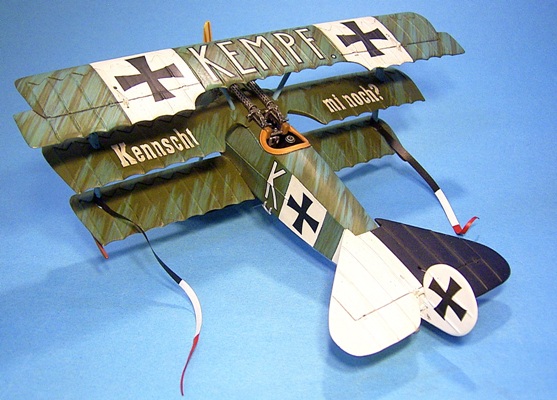 ACE-11 Fokker DR1, 213/17 (1pc) US$208


Fokker Dr.I 213/17 was flown
by Ltn. Friedrich "Fritz" Paul Kempf.
Friedrich Kempf was born on May 9th, 1894, in Freiburg.
He entered military service in 1913 after putting his technical studies on hold.

In May, 1915, he transferred from the infantry to the air service.
He flew with the bombing unit Kagohl 4 on both the Western and Balkan fronts.
He came from AFP 1 on 8 April 1917 to Jasta 2 (Boelcke).

On 17 Oct. 1917 he was transferred to JsSch I as an instructor.
He returned on 28 Jan. 1918 and stayed until 18 Aug 1918
we was returned to JsSch I as an instructor, where he stayed until the EOW.
Ltn. Kempf flew this machine and another one similarly marked
" Kempf. Kennscht mi noch?",
translating to "Kempf. Remember Me?".
Dr.I 213/17 also carried Kette (flight) leader's streamers on the lower interplane struts.
Friedrich Kempf survived both world wars, and died in 1966.



ACE11 & ACE11P





We now accept PAYPAL,
to purchase your figures please send your order by e-mail to
inquiry@johnjenkinsdesigns.com
after checking that everything is available,
you will be billed via PAYPAL.
your order will be shipped on confirmation of payment.
worldwide airmail 12%
(minimum postage us$10)


JOHN JENKINS DESIGNS
UNIT 6H, TOWER 1,
KING LEY IND. BUILDING,
33-35 YIP KAN STREET,
WONG CHUCK HANG,
HONG KONG,
tel/fax; 852 2553 9313