>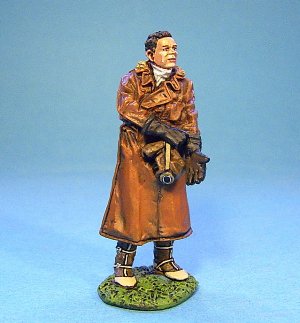 ACE-10P Captain Arthur Roy Brown (1pc) US$30


On the morning of 21 April,
No. 209 was involved in a combat patrol
when they were set upon by planes of Jagdstaffel 11,
led by Manfred von Richthofen, the " Red Baron".
A newcomer to No. 209, Brown's school friend,Lt. Wop May,
had been instructed to stay clear of any fight and watch.
May noticed an enemy pilot doing the same thing.
The Red Baron's cousin, Lt. Wolfram von Richthofen,
who had been given the same instructions as May.
May attacked Wolfram and soon found himself in the main fight,
spraying bullets everywhere until his guns jammed.
May dived out of combat, and Manfred von Richthofen gave chase down to ground level.
Brown saw May in trouble and dived steeply in an attempt to help out.
His attack was necessarily of fairly short duration,
and he was obliged to climb steeply to avoid crashing into the ground,
losing sight of both Richthofen and May.

What happened next remains controversial to this day,
but it seems highly probable that Richthofen turned to avoid Brown's attack, and then,
instead of climbing out of reach of ground fire and prudently heading for home,
remained at low altitude and resumed his pursuit of May, who was zig-zagging to throw off another attack.
May and Richthofen's route now took them
at low level right over some of the most heavily defended points of the Somme.
Some have suggested he became lost, as the winds that day were blowing the "wrong way" ,
towards the west, and the fight had slowly drifted over to the Allied side.
The front was also in a highly fluid state at the time,
in contrast to the more common static trench lines earlier in the Great War,
and landmarks can be confusing in very low level flight.

Australian Army machine gunners on the ground fired at Richthofen,
who eventually crashed near the Australian trenches.
Upon viewing Richthofen's body the following day,
Brown wrote that " there was a lump in my throat.
If he had been my dearest friend, I could not have felt greater sorrow".
His initial combat report was that the fight
with Richthofen was "indecisive" - this was altered by his commanding officer to "decisive".
In any case, Brown was officially credited with the kill by the RAF, and received a Bar for his DSC.

There is some research suggesting that von Richthofen
was killed by a single bullet fired by an anti-aircraft machine gunner,
perhaps Sergeant Cedric Popkin of the Australian 24th Machine Gun Company.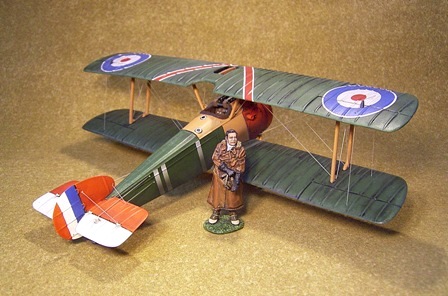 ACE-10 & ACE-010P





We now accept PAYPAL,
to purchase your figures please send your order by e-mail to
inquiry@johnjenkinsdesigns.com
after checking that everything is available,
you will be billed via PAYPAL.
your order will be shipped on confirmation of payment.
worldwide airmail 12%
(minimum postage us$10)


JOHN JENKINS DESIGNS
UNIT 6H, TOWER 1,
KING LEY IND. BUILDING,
33-35 YIP KAN STREET,
WONG CHUCK HANG,
HONG KONG,
tel/fax; 852 2553 9313