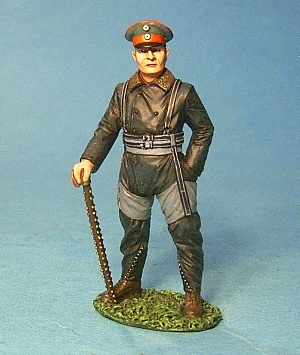 ACE-09P Oblt. Hermann Goring (1pc) US$35


Hermann Göring (1893-1946)

was known to use motivational devices,
such as the power of imagery to motivate his men.
Therefore it was no surprise when he broke the tradition
of having the Richtofen Geschwader-Kommandeur (Wing Commander)
fly an aeroplane with a highly visible amount of red on it.

Apparently as he wanted to assert his own identity,
and to make him instantly recognizable during the battles to come,
his final aeroplane, Fokker D.VII F 5125/18, was all white.

It is impossible to consider Hermann Göring
as just another flying ace of World War One.
His role in instigating and perpetrating the horrors of Naziism
in World War Two overwhelms anything else he did earlier in his life.
  While this figure and model focuses on his WWI experiences,
his heinous role in WWII can never be forgotten, or forgiven.

Hermann Göring was born in 1893, the son of a German diplomat.
Following education in a military school he became an infantry officer.
During World War 1 he became a fighter pilot.

Hermann Göring became a skilled and daring fighter pilot who scored 22 air victories.
Göring was promoted to a squadron leader,
decorated with the Iron Cross,
and when the famous "Red Baron" von Richthofen was killed in air combat,
Hermann Göring replaced him in command of his elite fighter squadron.

Göring was appointed head of the Richthofen Group in July,
much to the annoyance of many aces in that group with 40+ kills.
But Göring turned out to be a good group leader
and the complaints faded away and morale improved.

He was to shoot down one more Spad for his 22nd and final victory.

The Göring figure is depicted with the so-called Geschwader-Stock
which was a traditional symbol of authority passed down from Richthofen.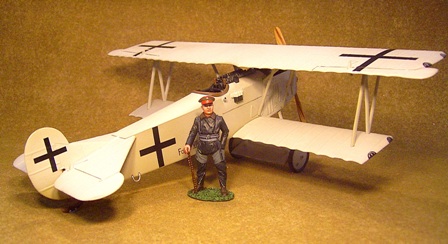 ACE-09 & ACE-09P





We now accept PAYPAL,
to purchase your figures please send your order by e-mail to
inquiry@johnjenkinsdesigns.com
after checking that everything is available,
you will be billed via PAYPAL.
your order will be shipped on confirmation of payment.
worldwide airmail 12%
(minimum postage us$10)


JOHN JENKINS DESIGNS
UNIT 6H, TOWER 1,
KING LEY IND. BUILDING,
33-35 YIP KAN STREET,
WONG CHUCK HANG,
HONG KONG,
tel/fax; 852 2553 9313