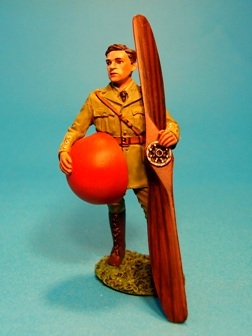 ACE-06P Captain Albert Ball, VC DSO MC (1pc) US$39


Albert Ball, VC, DSO & Two Bars, MC (14 August 1896 - 7 May 1917)

was an English fighter pilot
of the First World War and a recipient of the Victoria Cross.
At the time of his death he was, with forty-four victories,
the United Kingdom's leading flying ace,
and remained its fourth-highest scorer behind Edward Mannock,
James McCudden, and George McElroy.

He became the first British fighter ace
to capture the public's imagination.
Throughout his flying service he was primarily a "lone-wolf" pilot,
carefully stalking his prey from below until he drew close enough
to use his top-wing Lewis gun on its Foster mounting,
angled to fire upwards into the enemy's fuselage.
According to fellow ace and Victoria Cross recipient James McCudden,
"it was quite a work of art to pull this gun down and shoot upwards,
and at the same time manage one's machine accurately".

Ball crashed to his death in a field in France while pursuing the Red Baron's brother,
Lothar von Richthofen.During the engagement he managed to force von Richthofen to the ground,
but soon after emerged from a cloud bank upside down and crashed before he could recover.
The Germans buried Albert Ball in Annoeullin, with full honours.

Ball's death was reported around the world. He was posthumously awarded the Victoria Cross,
and also honoured by the government of France and the Aero Club of America.

A memorial service in his home town of Nottingham was attended by large crowds.
The year after his death he was commemorated in a biography that included
tributes from Prime Minister David Lloyd George,
Field Marshal Douglas Haig and General Hugh Trenchard.

Ball's father, a former mayor of Nottingham, memorialised his son in several ways,
buying the field where he died, improving his gravesite in Annoeullin,
and building homes in his honour.
Ball is also commemorated by a statue and plaque in the grounds of Nottingham Castle,
where his Victoria Cross and other medals and memoriabilia are displayed.

This figure is based on a photograph of Albert Ball
in the garden at Sedgeley House,
with the propeller and red spinner from his Nieuport 5173,
believed to be taken in October 1916.
He flew this Nieuport with No.11 squadron,
and on 29th May recorded his second victory.
He went on to score a total of 4 more victories in this aircraft
which made him officially an ace.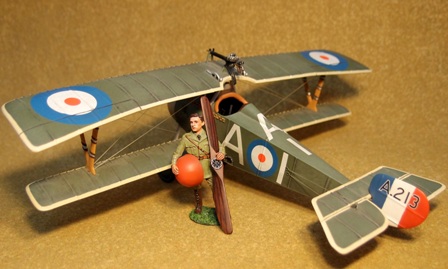 ACE-06 & ACE-06P





We now accept PAYPAL,
to purchase your figures please send your order by e-mail to
inquiry@johnjenkinsdesigns.com
after checking that everything is available,
you will be billed via PAYPAL.
your order will be shipped on confirmation of payment.
worldwide airmail 12%
(minimum postage us$10)


JOHN JENKINS DESIGNS
UNIT 6H, TOWER 1,
KING LEY IND. BUILDING,
33-35 YIP KAN STREET,
WONG CHUCK HANG,
HONG KONG,
tel/fax; 852 2553 9313