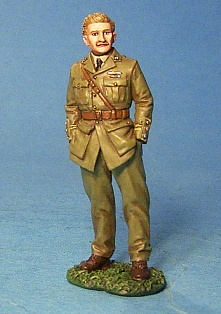 ACE-02P Captain "Billy" Bishop (1pc) US$33


Air Marshal William Avery "Billy" Bishop (8 February 1894 - 11 September 1956)

Air Marshal William Avery "Billy" Bishop
VC,CB, DSO & Bar, MC, DFC, ED was a Canadian First World War flying ace,
officially credited with 72 victories, making him the top Canadian ace.

On 17 March 1917, Bishop arrived at 60 Squadron at Filescamp Farm near Arras,
where he flew the Nieuport 17 fighter.
At that time, the average life expectancy of a new pilot in that sector was 11 days,
and German aces were shooting down British aircraft 5 to 1.
Bishop's first patrol on 22 March was less than successful.
He had trouble controlling his run-down aircraft,
was nearly shot down by anti-aircraft fire, and became separated from his group.
On 24 March, after crash landing his aircraft
during a practice flight in front of General John Higgins,
Bishop was ordered to return to flight school at Upavon.
But before he could leave, Major Alan Scott,
new commander of 60 Squadron,
convinced Higgins to let him stay until a replacement arrived.

The next day Bishop claimed his first victory when his was
one of four Nieuports that engaged three Albatros D.III Scouts near St Leger.
Bishop shot down and mortally wounded a 12 kill ace, Theiller,
but his engine failed in the process.

He landed in No Man's Land 300 yards from the German front line.
After running to the Allied trenches,
Bishop spent the night on the ground in a rainstorm.
There Bishop wrote a letter home,
stating: "I am writing this from a dugout 300 yards from our front line,
after the most exciting adventure of my life."

Bishop, in addition to the usual patrols with his squadron comrades,
soon flew many unofficial "lone-wolf" missions deep into enemy territory.
As a result, his total of enemy aircraft shot down increased rapidly.
On 8 April he scored his fifth victory and became an ace.
To celebrate, Bishop's mechanic painted the aircraft's nose blue, the mark of an ace.

Bishop's no-hold-barred style of flying always had him "at the front of the pack,"
leading his pilots into battle over hostile territory.
Bishop soon realized that this would eventually see him shot down. After one patrol,
a mechanic counted 210 bullet holes in his aircraft.

His new method of using the surprise attack proved successful;
he claimed 12 aircraft in April alone,
winning the Military Cross and a promotion to Captain
for his participation at the Battle of Vimy Ridge.

The successes of Bishop and his blue-nosed
aircraft were noticed on the German side,
and they began referring to him as "Hell's Handmaiden".
Ernst Udet called him "the greatest English scouting ace"
and one Jasta had a bounty on his head.
On 30 April, Bishop survived an encounter with Jasta 11
and Manfred von Richthofen, the Red Baron.
In May, Bishop won the Distinguished Service Order
for shooting down two aircraft while being attacked by four others.

On 2 June 1917, Bishop flew a solo mission behind enemy lines
to attack a German-held aerodrome,
where he claimed that he shot down three aircraft that were taking off
to attack him and destroyed several more on the ground.
For this feat, he was awarded the Victoria Cross (VC),
although it has been suggested that he may have embellished his success.
His VC was one of two awarded in violation
of the warrant requiring witnesses (the other being the Unknown Soldier),
and since the German records have been lost
and the archived papers relating to the VC were lost as well,
there is no way of confirming whether there were any witnesses.
It was however common practice at this time among the RFC and RNAS
squadrons to submit kills claimed without requiring confirmation
or verification from other witnesses.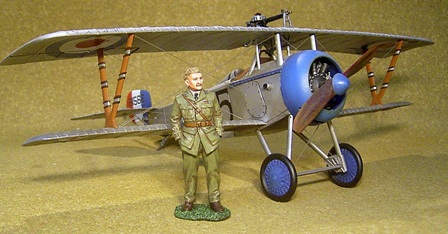 ACE-02P & ACE-02





We now accept PAYPAL,
to purchase your figures please send your order by e-mail to
inquiry@johnjenkinsdesigns.com
after checking that everything is available,
you will be billed via PAYPAL.
your order will be shipped on confirmation of payment.
worldwide airmail 12%
(minimum postage us$10)


JOHN JENKINS DESIGNS
UNIT 6H, TOWER 1,
KING LEY IND. BUILDING,
33-35 YIP KAN STREET,
WONG CHUCK HANG,
HONG KONG,
tel/fax; 852 2553 9313