THE GREAT WAR 1914-1918
GWB-01 Medium Mark A, Whippet Tank, "MUSICAL BOX" A/6 344 ,
Amiens Offensive, August 1918 (3 pcs) US$178

MODEL SIZE 1/30 scale
8" x 3 5/8 " x 3 ½ "


The Medium Mark A Whippet was a British tank of World War I.
It was intended to complement the slower British heavy tanks by using
its relative mobility and speed in exploiting any break in the enemy lines.
Possibly the most successful British tank of World War I,
the Whippet was responsible for more German casualties than any other British tank of the war.
Whippets later took part in several of the British Army's postwar actions,
notably in Ireland and North Russia.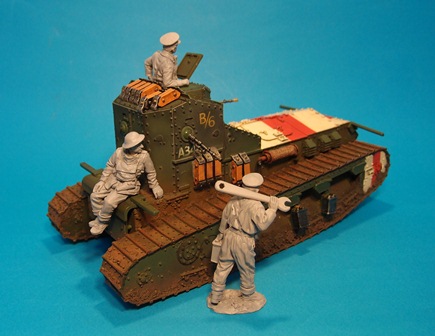 * * PLEASE NOTE FIGURES WILL BE AVAILABLE IN SPRING 2013* *

The Whippet tank number 344, was named "Musical Box",
and was under the command of Lt.C.B Arnold.
The exploits of Arnold and his 2 crew on the 8th August 1918,
has been called the "greatest mechanical cavalry charge of the war".

"Musical Box" was to move off at zero hour on the 8th August
with the rest of the troops across that sector,
but after passing the railway at Villiers-Bretonneux,
they somehow became detached from the rest of the main force.
They became aware of a force of Mark V tanks and Australian infantry under fire from German Artillery.
Arnold attacked the German artillery position immediately,
first passing in front of the German guns and then to the rear,
peppering the gun positions with machine gun fire.
This timely attack by Arnold and his crew allowed the Australian infantry to move forward.
For the next 9 hours, "Musical Box" attacked German rear positions,
They managed to disperse a whole battalion of infantry,
destroyed an observation balloon,
and a transport column of the German 225. Division.
The destruction of the "Musical Box" came when the Germans cornered
Arnoldˇ¦s tank and set it ablaze with artillery fire.
Whilst bailing out of the burning wreck, the driver was shot,
and Arnold and the remaining crewman were taken prisoner.
For more details on this single tank action,
please check out the following book
"Fighting Tanks - An account of The Royal Tank Corps in action 1916-1919",
published in 1929 and edited by G. Murray Wilson.





We now accept PAYPAL,
to purchase your figures please send your order by e-mail to
inquiry@johnjenkinsdesigns.com
after checking that everything is available,
you will be billed via PAYPAL.
your order will be shipped on confirmation of payment.
worldwide airmail 12%
(minimum postage us$10)


JOHN JENKINS DESIGNS
UNIT 6H, TOWER 1,
KING LEY IND. BUILDING,
33-35 YIP KAN STREET,
WONG CHUCK HANG,
HONG KONG,
tel/fax; 852 2553 9313