>

THE FIRST SUDAN WAR 1884-1885
BRITISH NAVAL BRIGADE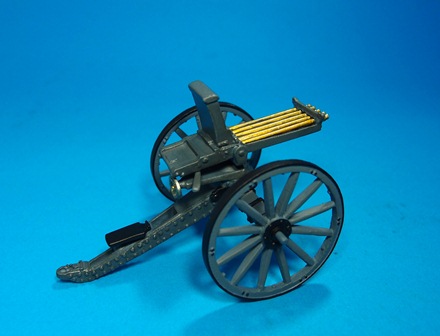 SRNGUN-02 5 BARRELLED GARDNER GUN, (3pcs) US$45


William Gardner patented his 5-barrel machine gun,
in August 1881. Unfortunately the United States Army was firmly wedded
to the Gatling gun at that time, and showed little interest,
so Gardner manufactured this gun in the UK, selling mostly to the Royal Navy,
who appreciated its lighter weight, compared to the Gatling.
The 5-barrel gun fired a .45 inch bullet at up to 812 rounds per minute,
and was sighted out to 2,000 yards.

During tests by the British army,
the five-barrelled Gardner gun fired 16,754 rounds before a failure occurred,
with only 24 stoppages.
When operator-induced errors were taken into account,
there were only 4 malfunctions in 10,000 rounds fired.
The Army adopted the weapon,
although its introduction was delayed because of opposition from the Royal Artillery.

It saw action in the Sudan,
notably at the Battle of Abu Klea,
where unfortunately its mechanism proved vulnerable
to the environmental conditions of loose sand and dust.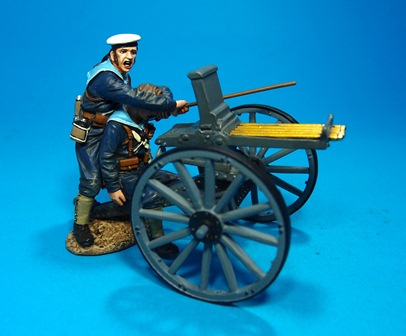 SRNGUN-02 & SRN-07





We now accept PAYPAL,
to purchase your figures please send your order by e-mail to
inquiry@johnjenkinsdesigns.com
after checking that everything is available,
you will be billed via PAYPAL.
your order will be shipped on confirmation of payment.
worldwide airmail 12%
(minimum postage us$10)
JOHN JENKINS DESIGNS
UNIT 6H, TOWER 1,
KING LEY IND. BUILDING,
33-35 YIP KAN STREET,
WONG CHUCK HANG,
HONG KONG,
tel/fax; 852 2553 9313