>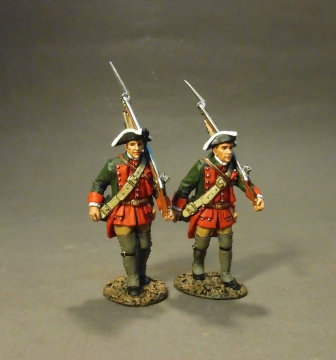 RRBPEN-05 The Pennsylvanian Provincial Regiment, 2 Line Infantry Marching (2pcs) US$80


July 1755,
after Braddock's defeat in an ambush on the Monongahela,
Pennsylvanians, who until then had no militia forces,
started to organise a defence.
The governor gave orders to build forts at Carlisle
and Shippensburg and to organize 4 companies of volunteers.
In October, the French and Canadiens with their Indian Allies
began to launch raids on the border of Pennsylvania.
On November 25, a "Militia Act" was passed in response to the border
massacres perpetrated by the Susquehanah and Ohio Delawares.
On November 27, the Assembly of Pennsylvania
voted funds to build forts and to replace militia companies
with a Provincial Regiment which was originally formed from pre-existing volunteers
and militia around the Susquehanah River.
Most men enlisted for less than six months.

In March 1756,
the regiment was formally organised into two battalions:
the one east of the river were commanded by Lieutenant-colonel Conrad Weiser,
while the one to the west of the river was led by Colonel John Armstrong.
Later, a third battalion was raised under Colonel William Clapham,
to defend the area of Augusta, Pennsylvania.
Afterwards, the Pennsylvania Provincials were reorganized
into 2 regiments: the 1st (Augusta) regiment,
formed of one battalion under Clapham,
and the 2nd, comprising the other two battalions.











We now accept PAYPAL,
to purchase your figures please send your order by e-mail to
inquiry@johnjenkinsdesigns.com
after checking that everything is available,
you will be billed via PAYPAL.
your order will be shipped on confirmation of payment.
worldwide airmail 12%
(minimum postage us$10)


JOHN JENKINS DESIGNS
UNIT 6E, TOWER 2,
KING LEY INDUSTRIAL BUILDING,
33-35 YIP KAN STREET,
WONG CHUK HANG,
HONG KONG
Tel: 852 9041 9065