THE SPANISH CIVIL WAR
THE CONDOR LEGION


REP-01 T-26 Model 1935, Republican Light Tank (2pcs) US$172

The T-26 tank was a Soviet light infantry tank
used during many of the conflicts of the 1930s
as well as during World War II.
It was a development of the British Vickers 6-Ton tank
and is widely considered one of the most successful tank designs of the 1930s.
The T-26 was the most important tank of the Spanish Civil War.

When the first batch of 50 T-26's were loaded off
the Russian freighter "Komsomol"
at the Spanish port of Cartagena on Oct 12, 1936,
the Franco Rebellion of July 1936 had already evolved
into a bloody civil war.

The Russian government,
anxious about losing the country to the fashists,
decided to support the Republicans in the same way
the Italians and Germans supported the Nationalists.
Hence, no less than 281,
T-26 light tanks and a further 50 BT-5 fast tanks reached
the Spanish shores up to March of 1938.

The T-26 instantly played a dominent role
whenever appearing on the battlefield.
Sufficiently armoured against its machine gun equipped
German and Italian counterparts and well armed with the 45mm gun,
the T-26 was only threatened by artillery and land mines.

However, its potential couldn't be exploited as the coordination
of infantry and armour formations was virtually non-existent,
resulting in tank attacks lacking infantry support and vice versa.

Nontheless, there were bounties offered by the Nationalists
for every tank captured and every such tank was instantly
integrated into their own tank units.
The T-26 remained in action until the end of the war
participating in almost all major battles.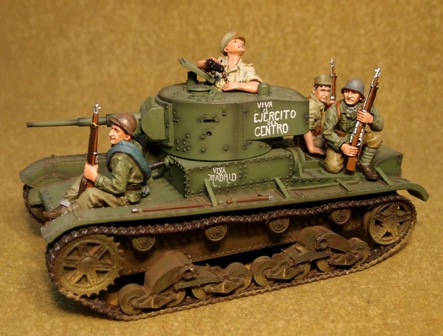 REP-01 & REP-01A , REP-01B





We now accept PAYPAL,
to purchase your figures please send your order by e-mail to
inquiry@johnjenkinsdesigns.com
after checking that everything is available,
you will be billed via PAYPAL.
your order will be shipped on confirmation of payment.
worldwide airmail 12%
(minimum postage us$10)


JOHN JENKINS DESIGNS
UNIT 6H, TOWER 1,
KING LEY IND. BUILDING,
33-35 YIP KAN STREET,
WONG CHUCK HANG,
HONG KONG,
tel/fax; 852 2553 9313