>

BATTLE OF THE PLAINS OF ABRAHAM 1759
BRITISH The 28th Regiment of Foot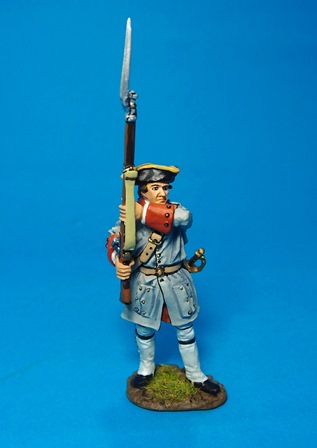 QF-36 REGIMENT de BEARN, Line Infantry At The Ready ( 1pc) us$40


The Régiment de Béarn was a French Army regiment active in the 18th century,
and was recruited from the Picardy region of France.
It is principally known for its role in the Seven Years' War,
when it served with distinction in the North American theatre.
French Regiments at this time consisted of two battalions.
The two battalions of this regiment operated on different theatres of operation
for most of the Seven Years' War.
The 1st Battalion remained in Europe,
and was assigned to the defence of the coasts.
At August 1, 1757, the 1st Battalion was stationed at La Rochelle in the Aunis country.
The 2nd battalion was sent to New France, and arrived in June 1755.
The Regiment was to take part at the siege of Fort William Henry 1757,
and in 1758, the regiment participated in the defense of Fort Carillon.

On September 13, 1759, they were present during the siege of Quebec City,
and at the Battle of The Plains of Abraham, it was deployed in the centre.
This Regiment probably underwent the most changes in its uniform,
than any other regiment in New France.
Waistcoats, collars and cuffs were originally blue, but were changed to red in 1757.
In 1760, the 2nd battalion returned to France.






We now accept PAYPAL,
to purchase your figures please send your order by e-mail to
inquiry@johnjenkinsdesigns.com
after checking that everything is available,
you will be billed via PAYPAL.
your order will be shipped on confirmation of payment.
worldwide airmail 12%
(minimum postage us$10)


JOHN JENKINS DESIGNS
UNIT 6H, TOWER 1,
KING LEY IND. BUILDING,
33-35 YIP KAN STREET,
WONG CHUCK HANG,
HONG KONG,
tel/fax; 852 2553 9313