>

BATTLE OF THE PLAINS OF ABRAHAM 1759
13th September 1759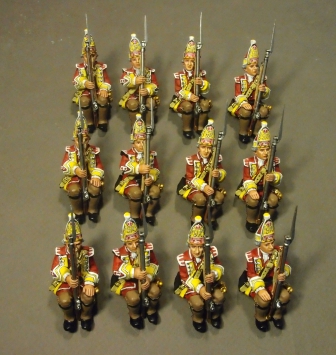 QBOAT-03 Quebec Landing Barge, 15th Regiment of Foot, Grenadiers (12 pcs) us$380


**PLEASE NOTE, THERE ARE 4 VARIANTS OF THE GRENADIERS. TWO OF THESE SETS CONTAIN ALL THE FIGURES NEEDED TO COMPLETELY FILL ONE QUEBEC LANDING BARGE.**


The 15th Regiment of Foot was raised in 1685 under Sir William Clifton,
and was known as Clifton's Regiment of Foot.
In 1702, the regiment formed part of Marlborough's Army,
distinguishing itself at the battles of Blenheim, Ramilles, Malplaquet and Oudenarde.

The regiment was numbered the 15th Regiment of Foot in 1751
and was heavily engaged during the French and Indian War.
The 15th Foot "took the fort" at Louisburg in 1758 and was part of
General Wolfe's Army fighting on the Plains of Abraham,
above the city of Quebec, on September 13, 1759.

The 15th Regiment of Foot saw action during the defense of Quebec and took part in the expedition against Montreal in 1760.






We now accept PAYPAL,
to purchase your figures please send your order by e-mail to
inquiry@johnjenkinsdesigns.com
after checking that everything is available,
you will be billed via PAYPAL.
your order will be shipped on confirmation of payment.
worldwide airmail 12%
(minimum postage us$10)


JOHN JENKINS DESIGNS
UNIT 6E, TOWER 2,
KING LEY INDUSTRIAL BUILDING,
33-35 YIP KAN STREET,
WONG CHUK HANG,
HONG KONG
Tel: 852 9041 9065