>

BATTLE OF THE PLAINS OF ABRAHAM 1759
13th September 1759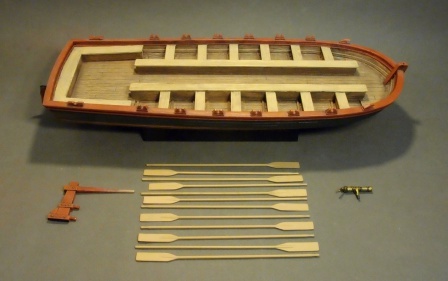 QBOAT-01 Quebec Landing Barge (17 pcs) us$178

Dimensions of Complete Boat
14 ½" length x 14" wide x 4 ½" Height.
Weight Fully Loaded , 4,165g


The Quebec landing Barge, 1758 (c).
This type of barge was used during General Wolfe's landing at Quebec in 1759.
It was developed around 1758 for use in seaborne attacks on French ports.
Assault landing techniques were devised with the aid of Royal Navy officers,
and as well as at Quebec,
spectacularly successful results were achieved during
the Seven Years War (1756-1763) at Louisbourg (Cape Breton, Canada) in 1758
and at the Spanish fortress of Havana (Cuba) in 1762.

The boat has 13 crew and 24 Grenadiers.
The boat is produced in 3 main pieces,
so that the set can be displayed on its own stand,
or as a waterline model.

Captain James Cook the famous British Explorer was a
young MASTER on HMS Pembroke during the Quebec Siege,
and was placed in charge of organizing the Landing barges.








We now accept PAYPAL,
to purchase your figures please send your order by e-mail to
inquiry@johnjenkinsdesigns.com
after checking that everything is available,
you will be billed via PAYPAL.
your order will be shipped on confirmation of payment.
worldwide airmail 12%
(minimum postage us$10)


JOHN JENKINS DESIGNS
UNIT 6E, TOWER 2,
KING LEY INDUSTRIAL BUILDING,
33-35 YIP KAN STREET,
WONG CHUK HANG,
HONG KONG
Tel: 852 9041 9065