>

BATTLE OF THE PLAINS OF ABRAHAM 1759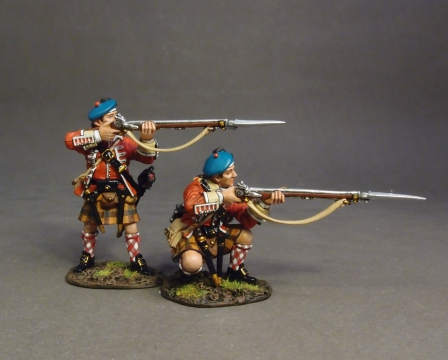 QB78-05 13th September 1759, 78th (Highland) Regiment Of Foot, Fraser's Highlanders,
2 x Line Infantry (2pcs) us$84


The Battle of the Plains of Abraham,
also known as the Battle of Quebec (Bataille des Plaines d'Abraham,
or Première bataille de Québec in French),
was a pivotal battle in the Seven Years' War (also referred to as the French and Indian War ).
The battle, which began on 13 September 1759,
was fought by the British Army
and Navy against the French Army on a plateau just outside the walls of Quebec City,
on land that was originally owned by a farmer named Abraham Martin,
hence the name of the battle.
The battle involved fewer than 10,000 troops between both sides,
but proved to be a deciding moment in the conflict between France
 and Britain over the fate of New France,
influencing the later creation of Canada.

The 78th Regiment, (Highland) Regiment of Foot otherwise known as
the 78th Fraser Highlanders was a British infantry regiment
of the line raised in Scotland in 1757,
to fight in the Seven Years' War .
The 78th Regiment was one of the first three Highland Regiments
to fight in North America.

The regiment was raised in Inverness by Lieutenant-Colonel Simon Fraser
of Lovat as the 2nd Highland Battalion 
and ranked as the 62nd Regiment of Foot in 1757.
It was re-ranked as the 63rd Regiment of Foot later in the year. 
The regiment embarked for Halifax, Nova Scotia in July 1757 and,
having been renamed the 78th (Highland) Regiment of Foot,
or Fraser's Highlanders in June 1758,
it took part in the Siege of Louisbourg later that month,
the Battle of the Plains of Abraham in September 1759 and the capture of Montreal in August 1760.
 It was disbanded in Quebec in December 1763. In the Seven Years' War,
the regiment at 103 soldiers killed and 383 wounded.








We now accept PAYPAL,
to purchase your figures please send your order by e-mail to
inquiry@johnjenkinsdesigns.com
after checking that everything is available,
you will be billed via PAYPAL.
your order will be shipped on confirmation of payment.
worldwide airmail 12%
(minimum postage us$10)


JOHN JENKINS DESIGNS
UNIT 6H, TOWER 1,
KING LEY IND. BUILDING,
33-35 YIP KAN STREET,
WONG CHUCK HANG,
HONG KONG,
tel/fax; 852 2553 9313