IWA-04 SPAD XIII, 94th Aero Squadron, USAS , Nieuwied, Germany 1919,
Lt. Reed Chambers (1 pc) US$238


The Interwar Aviation series covers aircraft
that were developed and used between World War 1 and World War 2,
and was known as the"Golden Age of Aviation."

In the two decades between the end of World War 1 and the start of World War 2,
military aviation underwent a complete transformation.
The typical combat aircraft of 1918 was a fabric-covered
externally braced biplane with fixed landing gear and open cockpits.
Few aero engines developed as much as 250 horsepower,
and top speeds of 200 km (120 miles) per hour were exceptional.
By 1939 the first-line combat aircraft of the major powers were all-metal monoplanes with retractable landing gear.

Whilst on occupation duty at Nieuwied during the spring of 1919,
several pilots of the 94th Aero Squadron, USAS, had their SPAD XIII's repainted in colourful paint schemes.
The American flag scheme was painted onto the SPAD XIII flown by Captain Reed Chambers.
The wings and fuselage were painted in Red and white stripes,
while the nose and empennage were blue with white stars.
Although striking the pilots of the 94th Aero Squadron quickly found out that the performance of
their planes suffered because of the extra weight of the paint needed to apply these extravagant colour schemes!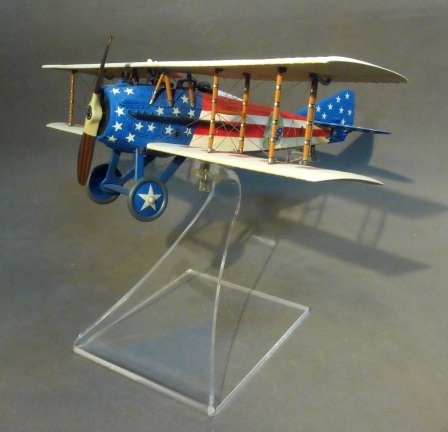 We now accept PAYPAL,
to purchase your figures please send your order by e-mail to
inquiry@johnjenkinsdesigns.com
after checking that everything is available,
you will be billed via PAYPAL.
your order will be shipped on confirmation of payment.
worldwide airmail 12%
(minimum postage us$10)


JOHN JENKINS DESIGNS
UNIT 6E, TOWER 2,
KING LEY INDUSTRIAL BUILDING,
33-35 YIP KAN STREET,
WONG CHUK HANG,
HONG KONG
Tel: 852 9041 9065