IWA-01 Boeing P-26A Peashooter, 17th Pursuit Group, 34th Pursuit Squadron,
March Field, California 1935 (2pcs) US$238


INTER-WAR AVIATION

The Interwar Aviation series covers aircraft
that were developed and used between World War 1 and World War 2,
and was known as the "Golden Age of Aviation."

In the two decades between the end of World War 1 and the start of World War 2,
military aviation underwent a complete transformation.
The typical combat aircraft of 1918 was a fabric-covered
externally braced biplane with fixed landing gear and open cockpits.
Few aero engines developed as much as 250 horsepower,
and top speeds of 200 km (120 miles) per hour were exceptional.
By 1939 the first-line combat aircraft
of the major powers were all-metal monoplanes with retractable landing gear.

THE BOEING P-26A PEASHOOTER

The Boeing P-26 was the first all-metal monoplane mass-produced for the USAAC.
The prototype first flew in 1932,
and orders were placed for 136 aircraft.
The initial order was delivered in June 1934 and,
although it had only a short service life,
it was to become one of the best known aircraft of the pre-war era.

All P-26 aircraft were withdrawn from front line service when WW2 began,
for the USA in 1941.
However some remained in service with the governments of Panama and the Philipines.
One P-26 is credited with shooting down the first Japanese aircraft during attacks on the islands.
A small number of aircraft were sold to Guatemala and these were still in service there in 1955.

The 17th PURSUIT GROUP in 1935,
consisted of the 34th, 73rd and 95th Pursuit Squadrons.

These Boeing P-26's were the most decorated and famous aircraft of their era.
The group developed a style of
markings which still allowed each squadron to retain its own identity.
The main features to the style were the large tapered
fuselage flash repeated in reduced scale on the wheels spats,
and scalloped trim to the headrest and leading edges of the fin and tail planes.
The 34th applied their markings in black and white.
The 73rd used red and yellow.
The 95th used blue and yellow.
Each squadron retained their own squadron insignia on the fuselage
and carried large ID numbers on the upper decking and belly,
the upper number being the individual aircraft number and the lower the squadron number.

These colourful P-26's were sadly only in service with the 17th Pursuit Group for only a year,
after which they were transferred to other groups.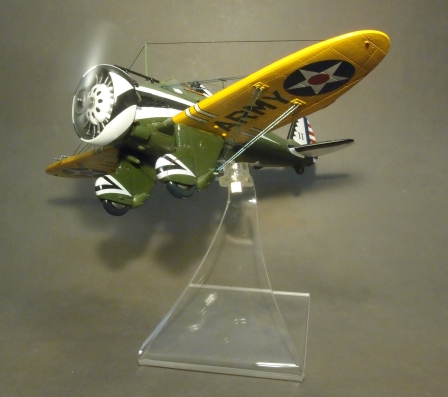 We now accept PAYPAL,
to purchase your figures please send your order by e-mail to
inquiry@johnjenkinsdesigns.com
after checking that everything is available,
you will be billed via PAYPAL.
your order will be shipped on confirmation of payment.
worldwide airmail 12%
(minimum postage us$10)


JOHN JENKINS DESIGNS
UNIT 6E, TOWER 2,
KING LEY INDUSTRIAL BUILDING,
33-35 YIP KAN STREET,
WONG CHUK HANG,
HONG KONG
Tel: 852 9041 9065