THE GREAT WAR 1914-1918
GWF-50 75mm French Field-Gun (1pc) US$75


The French 75 is widely regarded as the first modern artillery piece.
It was the first field gun to include a hydro-pneumatic recoil mechanism,
which kept the gun's trail and wheels perfectly still during the firing sequence.
Since it did not need to be re-aimed after each shot,
the crew could fire as soon as the barrel returned to its resting position.
In typical use, the French 75 could deliver fifteen rounds per minute on its target,
either shrapnel or melinite high-explosive,
up to about 5 miles (8,500 m) away.
Its firing rate could even reach close to 30 rounds per minute,
albeit only for a very short time and with a highly experienced crew.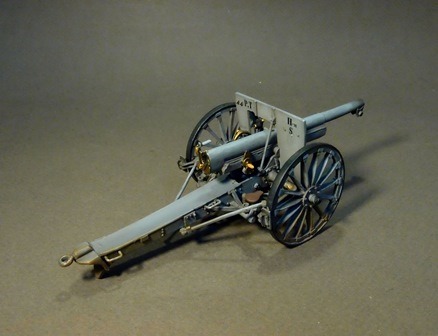 At the opening of World War I, in 1914,
the French Army had about 4,000 of these field guns in service.
By the end of the war about 12,000 had been produced.
It was also in service with the American Expeditionary Forces (AEF),
which had been supplied with about 2,000 French 75 field guns.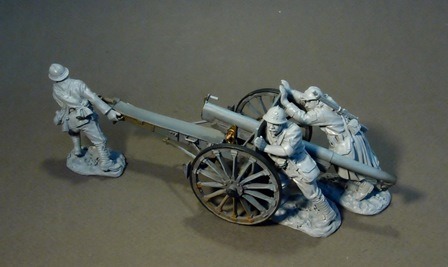 **PLEASE NOTE, THAT FIGURES WILL BE SUPPLIED SEPARATELY**





We now accept PAYPAL,
to purchase your figures please send your order by e-mail to
inquiry@johnjenkinsdesigns.com
after checking that everything is available,
you will be billed via PAYPAL.
your order will be shipped on confirmation of payment.
worldwide airmail 12%
(minimum postage us$10)


JOHN JENKINS DESIGNS
UNIT 6E, TOWER 2,
KING LEY INDUSTRIAL BUILDING,
33-35 YIP KAN STREET,
WONG CHUK HANG,
HONG KONG
Tel: 852 9041 9065