THE GREAT WAR 1914-1918
GWF-09 RENAULT TSF, 3rd Company, 2nd Platoon (2pcs) US$188


The Char signal or RENAUT TSF was a command tank with a radio.
This version substituted an enlarged superstructure for the turret,
which was to house the E10. TER transmitter/reciever.

These early radio tanks were not popular,
as their transmitter/recievers were unreliable
and their antennae were extremely vulnerable to damage.
"TSF" stands for télégraphie sans fil ("wireless").
These versions had no armament, and had three-men crew.
300 TSF Versions were ordered, and at least 188 produced.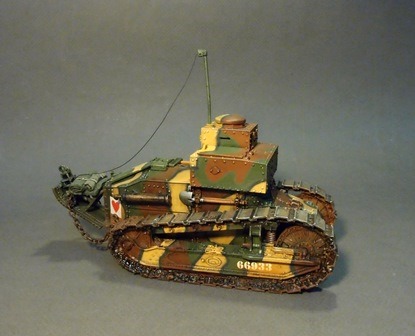 We now accept PAYPAL,
to purchase your figures please send your order by e-mail to
inquiry@johnjenkinsdesigns.com
after checking that everything is available,
you will be billed via PAYPAL.
your order will be shipped on confirmation of payment.
worldwide airmail 12%
(minimum postage us$10)


JOHN JENKINS DESIGNS
UNIT 6E, TOWER 2,
KING LEY INDUSTRIAL BUILDING,
33-35 YIP KAN STREET,
WONG CHUK HANG,
HONG KONG
Tel: 852 9041 9065