THE GREAT WAR 1914-1918
GWF-07H Renault Ft, Berliet "Omnibus" Turret, Hotchkiss 8mm Machine Gun,
3rd Company, 2nd Platoon (6 pcs) US$178

The Renault FT,
was a French light tank that was among the most revolutionary
and influential tank designs in history.
The FT was the first production tank to have its armament within
a fully rotating turret. The Renault FT's configuration – crew compartment at the front,
engine compartment at the back,
and main armament in a revolving turret – became and remains the standard tank layout.
Over 3,000 Renault FT tanks were manufactured by French industry, most of them during the year 1918.

Armoured warfare historian Steven Zaloga has called the Renault FT "the world's first modern tank."

The original one piece cast turret,
had many problems, mainly in that it only permitted a Hotchkiss machine gun to be mounted.
Research led to the design of what was to be known as the "Omnibus".
This turret allowed for mounting either the Puteaux cannon
or the Hotchkiss machine gun.
This turret was assembled of flat steel plates screwed to a
frame and was shaped like an octagonal prism that narrowed towards the top.

The Mle 1914 Hotchkiss machine gun chambered for the 8mm Lebel cartridge
became the standard machine gun of the French Army during World War I.
The Hotchkiss machine gun, a sturdy and reliable weapon,
remained in active service with the French army until the early 1940s.
By the end of 1918,
47,000 Hotchkiss machine guns had already been delivered to the French army alone.
If one adds the international sales,
the total number of Hotchkiss machine guns that were manufactured in various calibers is close to 100.000.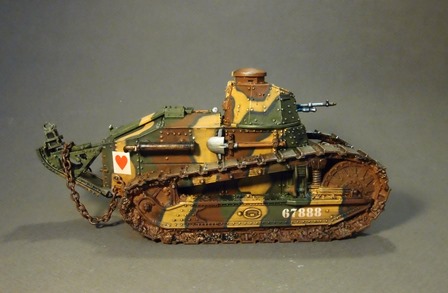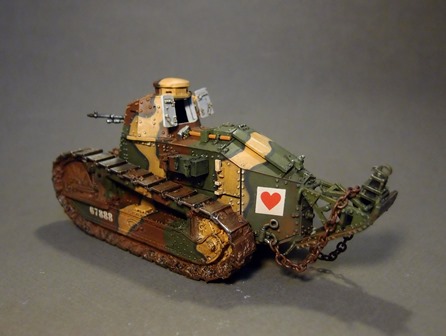 We now accept PAYPAL,
to purchase your figures please send your order by e-mail to
inquiry@johnjenkinsdesigns.com
after checking that everything is available,
you will be billed via PAYPAL.
your order will be shipped on confirmation of payment.
worldwide airmail 12%
(minimum postage us$10)


JOHN JENKINS DESIGNS
UNIT 6E, TOWER 2,
KING LEY INDUSTRIAL BUILDING,
33-35 YIP KAN STREET,
WONG CHUK HANG,
HONG KONG
Tel: 852 9041 9065