THE GREAT WAR 1914-1918
GWF-02 Saint-Chamond Tank, Early Version, 1st Battery, AS 31 "TEDDY" (1 pc) US$188

This was the appearance of the Saint-Chamond Tank after its first upgrade.
It was armed with the 75 Tir Rapide (TR) Model 12 Cannon.
The vehicle featured four roof turrets,
twoobservation turrets forward, one on either side,
with one between them for venting the gunsmoke after the firing of the cannon.
The fourth turret was at the rear on the left hand side,
and was used by the driver whilst driving backwards. The turrets were in fact weak spots of the tank's structure,
and it was quite common that machine gun fire would shoot away the turrets.
The observation turrets were therefore removed for the later version.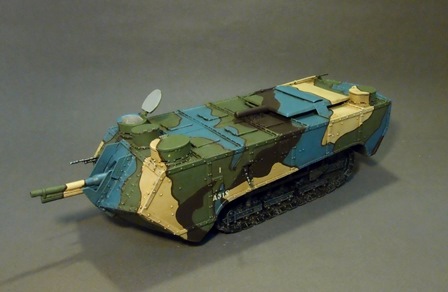 We now accept PAYPAL,
to purchase your figures please send your order by e-mail to
inquiry@johnjenkinsdesigns.com
after checking that everything is available,
you will be billed via PAYPAL.
your order will be shipped on confirmation of payment.
worldwide airmail 12%
(minimum postage us$10)


JOHN JENKINS DESIGNS
UNIT 6H, TOWER 1,
KING LEY IND. BUILDING,
33-35 YIP KAN STREET,
WONG CHUCK HANG,
HONG KONG,
tel/fax; 852 2553 9313