THE GREAT WAR 1914-1918
GWB-60 LGOC B-Type London Bus (1 pc) US$228

The first LGOC B-Type Bus entered service on the streets of London in 1910.
On 18th October 1914,
300 LGOC B-Type Buses were impressed and ordered to the ASC depot
at Grove Park for preparations to join the BEF in France.
By the end of the war 1,
319 buses had been taken to France,
leaving only 300 serving in Britain.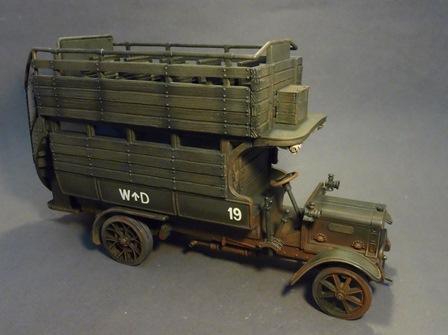 On a pleasant day the preferred seat would always be on the top deck,
although any change in weather conditions might cause a sudden change of heart.
The B-Type was designed to carry 34 passengers in peacetime,
but with all of their equipment this was reduced to just 25 soldiers.

Advertising hoardings and especially the lower floor windows were carefully boarded up
with wooden planks to avoid occupants being injured by flying glass.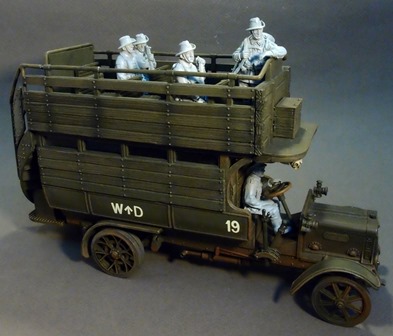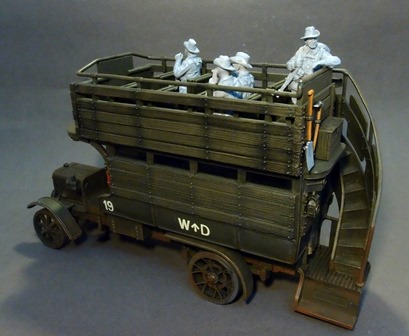 **PLEASE NOTE, THAT FIGURES WILL BE SUPPLIED SEPARATELY**





We now accept PAYPAL,
to purchase your figures please send your order by e-mail to
inquiry@johnjenkinsdesigns.com
after checking that everything is available,
you will be billed via PAYPAL.
your order will be shipped on confirmation of payment.
worldwide airmail 12%
(minimum postage us$10)


JOHN JENKINS DESIGNS
UNIT 6H, TOWER 1,
KING LEY IND. BUILDING,
33-35 YIP KAN STREET,
WONG CHUCK HANG,
HONG KONG,
tel/fax; 852 2553 9313