THE GREAT WAR 1914-1918
GWB-15B Royal Engineers Signal Service(RESS), 2 Pigeon Handlers (3 pcs) US$80


The British did not have a separate Corps of Signals in the Great War:
it was agreed that an independent unit would be formed in 1918,
but for various administrative reasons it was delayed until 1920.

At the outbreak of war in August 1914 all the British Armies signalling/
intercommunication requirements were met by the Royal Engineers Signal Services (RESS)
that was formed in 1908.
Previously, in 1870,
the responsibility for all military communications
was officially given to the Telegraph Troop,
of the Royal Engineers.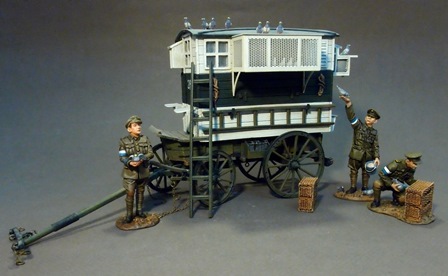 We now accept PAYPAL,
to purchase your figures please send your order by e-mail to
inquiry@johnjenkinsdesigns.com
after checking that everything is available,
you will be billed via PAYPAL.
your order will be shipped on confirmation of payment.
worldwide airmail 12%
(minimum postage us$10)


JOHN JENKINS DESIGNS
UNIT 6E, TOWER 2,
KING LEY INDUSTRIAL BUILDING,
33-35 YIP KAN STREET,
WONG CHUK HANG,
HONG KONG
Tel: 852 9041 9065