>

GWB-03 British Medium Tank, MARK C, "HORNET" (2 pcs) US$188

MODEL SIZE 1/30 scale 10 ½" x 5" x 3 ¾"
MODEL WEIGHT 1,350g


The Medium Mark C Hornet was a British tank developed during the First World War,
but produced too late to see any fighting.

In 1917 Sir William Tritton had developed the Medium Mark A Whippet
without involving his former co-worker Walter Gordon Wilson.
In response Major Wilson began to design an improved type on his own,
the Medium Mark B, in July 1917.
As soon as he became aware of Wilson's intentions,
Tritton ordered his chief designer, William Rigby,
to design a rivaling type: the Medium Mark C.
The drawings were approved by the British Army on 19 April 1918.
The prototype was finished in August,
a few weeks before the Medium B prototype also in construction at Tritton's own factory.
At first 200 tanks were ordered; later this was increased to 600,
all to be produced by William Foster & Co Ltd at Lincoln with Armlet & Wortley as subcontractor.
The colloquial name of the tank was to be "Hornet".
It had the general rhomboid shape of the Mark I and later heavy tanks
combined with a fixed armoured structure, or Casemate, well forward,
fitted with ball-mounts for five machine guns. However,
Tritton's Medium Mark C was a much longer vehicle.
It had a separate engine compartment at the back like the Medium B,
but here it was large enough to house a normal 6-cylinder Ricardo engine
behind a standard epicyclic transmission.
Also it was easily accessible from the fighting compartment.
The larger engine meant the tank had better speed (about 8 °mph (13°km/h)).
The greater length gave it a superior trench crossing ability.
A fuel tank holding 150° imp °gal (680°l) of petrol allowed for a range of 140° mi (230° km).
Overall mobility therefore was much better.
Rigby had taken great care to improve the design's ergonomics.
The commander had a special revolving lookout turret and even a small map table.
There were eleven vision slits.
Special stowage boxes were fitted for the personal gear of the crew of four.
Speaking-tubes were used to improve communication.
The driver had an odometer.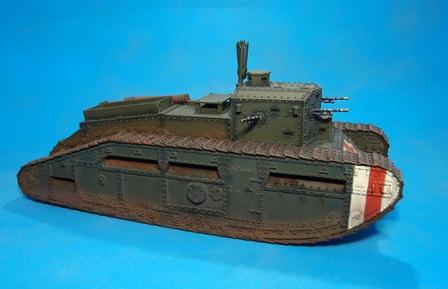 We now accept PAYPAL,
to purchase your figures please send your order by e-mail to
inquiry@johnjenkinsdesigns.com
after checking that everything is available,
you will be billed via PAYPAL.
your order will be shipped on confirmation of payment.
worldwide airmail 12%
(minimum postage us$10)


JOHN JENKINS DESIGNS
UNIT 6H, TOWER 1,
KING LEY IND. BUILDING,
33-35 YIP KAN STREET,
WONG CHUCK HANG,
HONG KONG,
tel/fax; 852 2553 9313