THE SECOND WORLD WAR
GERMAN ARMOUR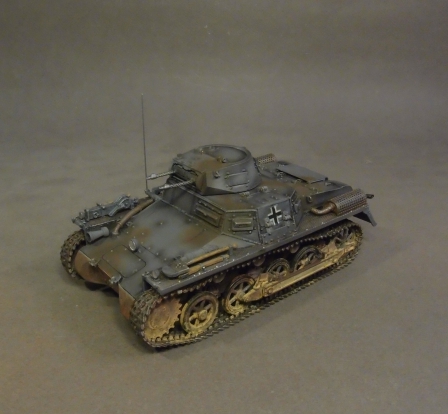 GA-10A Panzerkampfwagen I Ausf. A (2pcs) US$188

Scale 1/30
Model Dimensions 7cm x 14cm x 6cm
Model Weight 202g


The Panzer I was a light tank produced in Germany in the 1930s.
The name is short for the German Panzerkampfwagen I
("armored fighting vehicle mark I"), abbreviated PzKpfw I.
The tank's official German ordnance inventory designation was SdKfz 101
("special purpose vehicle 101").

Design of the Panzer I began in 1932 and mass production began in 1934.
Intended only as a training tank to introduce
the concept of armored warfare to the German Army,
the Panzer I saw combat in Spain during the Spanish Civil War,
in Poland, France, the Soviet Union and North Africa during the Second World War,
and in China during the Second Sino-Japanese War.
Experiences with the Panzer I during the Spanish Civil War helped
shape the German Panzerwaffes' invasion of Poland in 1939 and France in 1940.
By 1941, the Panzer I chassis design
was used as the basis of tank destroyers and assault guns.
There were attempts to upgrade the Panzer I throughout its service history,
including by foreign nations, to extend the design's lifespan.
It continued to serve in the Spanish Armed Forces until 1954.

The Panzer I's performance in combat
was limited by its thin armour and light armament of two machine guns.
As a design intended for training,
the Panzer I was not as capable as other light tanks of the era,
such as the Soviet T-26.
Although weak in combat,
it formed a large part of Germany's tank forces
and was used in all major campaigns between September 1939 and December 1941.
The small, vulnerable light tank would be surpassed in importance
by other German tanks,
such as the Panzer IV, Panther, and Tiger;
nevertheless, the Panzer I's contribution to the early victories of
Nazi Germany during World War II was significant.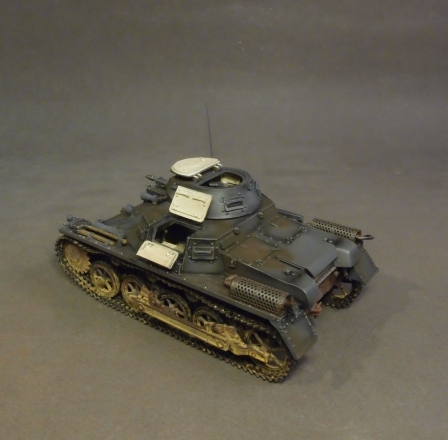 Lesson learned from the Panzerkampfwagen I provided the German designers
and manufacturers with valuable experience in designing
and producing the next generation of new panzers that were soon to come.
Although, Panzerkampfwagen I was not a truly valuable combat tank,
it proved to be an excellent training tank
and most of the panzer crews were trained on Panzerkampfwagen I
until the end of the war or operated it in combat as their first armoured vehicle.

There have been many requests over the years
for jjDesigns to produce Pz 1A's for the Second World War.
Although GA-10A has generic markings,
there will be other tanks produced with specific unit markings,
to represent tanks from The Invasion of Poland through
and even Chiang Kai-shek's National Government Army in China.








We now accept PAYPAL,
to purchase your figures please send your order by e-mail to
inquiry@johnjenkinsdesigns.com
after checking that everything is available,
you will be billed via PAYPAL.
your order will be shipped on confirmation of payment.
worldwide airmail 15%
(minimum postage us$15)


JOHN JENKINS DESIGNS
UNIT 6E, TOWER 2,
KING LEY INDUSTRIAL BUILDING,
33-35 YIP KAN STREET,
WONG CHUK HANG,
HONG KONG
Tel: 852 9041 9065