>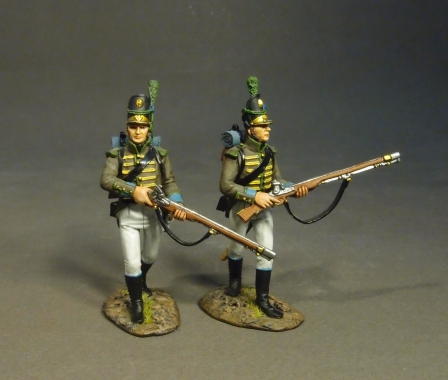 CAZ-05W Portuguese 1st Cazadores,1809, Advancing, White Trousers (2pcs) us$78


Caçadores was Portuguese for "huntsmen",
these were the elite light infantry of the Portuguese Army during the Peninsular War.
They were referred by Lord Wellington,
as the "fighting cocks" of his Anglo-Portuguese Army.

One of the most distinctive features of the Caçadores was their famous brown uniform .
The brown uniform was chosen as a form of camouflage,
considered more appropriate to the dry lands of the Iberian Peninsula
than the traditional green uniforms used by the light infantry of most other countries in Europe.

During the Peninsular War,
Caçadores became especially notable in the performance of marksmanship at long distances.

1st and 3rd Cazadores had the highest level of training.
They were indoctrinated with British battalions and formed part of the famous "Light Division" of Major General Robert "Black Bob" Craufurd.

Both battalions are unquestionably the most famous Portuguese battalions.
They were trained by British officers and were the equivalent of the 95th rifles.






We now accept PAYPAL,
to purchase your figures please send your order by e-mail to
inquiry@johnjenkinsdesigns.com
after checking that everything is available,
you will be billed via PAYPAL.
your order will be shipped on confirmation of payment.
worldwide airmail 12%
(minimum postage us$10)


JOHN JENKINS DESIGNS
UNIT 6E, TOWER 2,
KING LEY INDUSTRIAL BUILDING,
33-35 YIP KAN STREET,
WONG CHUK HANG,
HONG KONG
Tel: 852 9041 9065