KNIGHTS OF THE SKIES
ALLIED GROUNDCREW AND ACCESSORIES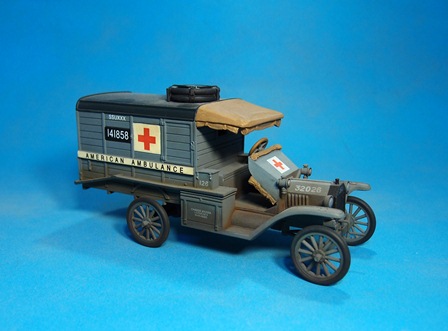 BGC-04 U.S. Ford T Ambulance 1918 (1pc) US$148

It was the most common ambulance used by the Allies during the war.
Many American field service and Red Cross volunteer drivers drove Model "T" ambulances,
including writer Ernest Hemingway and future cartoonist Walt Disney.

It proved to be a very good ambulance.
ItíŽs light weight made it well-suited for use on the muddy
and shell-torn roads in forward combat areas;
and if it got stuck in a hole,
a group of soldiers could haul it out without much ado.
It was also, as stated, very easy to maintain and repair,
and it could take a lot of punishment. By November 1918,
4.362 Model "T" ambulances had been shipped overseas.

The ambulance could carry three patients in litters or four patients seated,
and two more could always sit up front with the driver.
Canvas "pockets" covered the litter handles,
which stuck out at the rear, beyond the tailgate.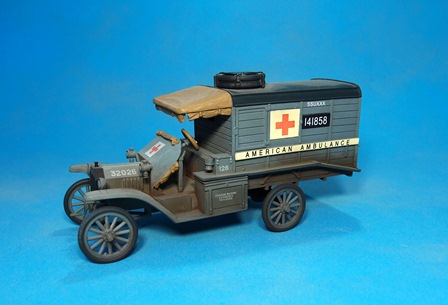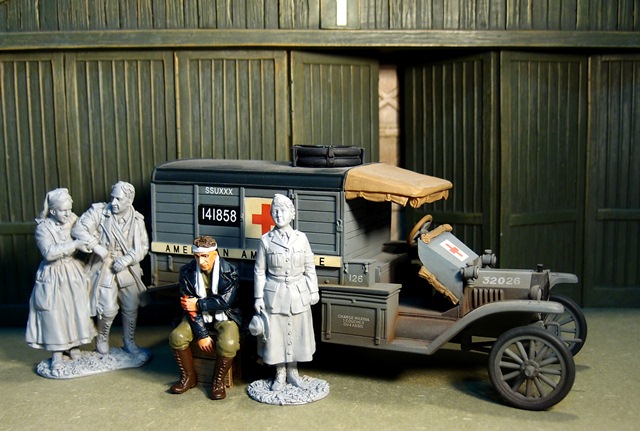 BGC-04 & BGC-09





We now accept PAYPAL,
to purchase your figures please send your order by e-mail to
inquiry@johnjenkinsdesigns.com
after checking that everything is available,
you will be billed via PAYPAL.
your order will be shipped on confirmation of payment.
worldwide airmail 12%
(minimum postage us$10)


JOHN JENKINS DESIGNS
UNIT 6H, TOWER 1,
KING LEY IND. BUILDING,
33-35 YIP KAN STREET,
WONG CHUCK HANG,
HONG KONG,
tel/fax; 852 2553 9313