THE ANCIENTS COLLECTION
ARMIES AND ENEMIES OF ANCIENT ROME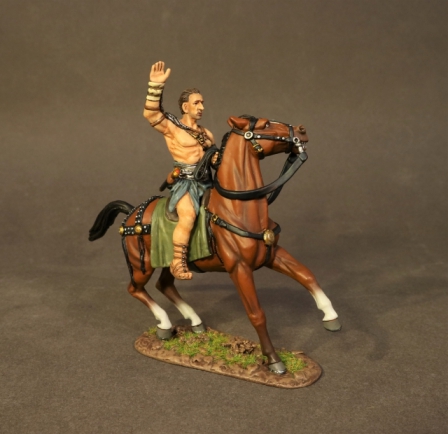 AER-50 The Third Servile War 73 BC - 71 BC, Spartacus (2pcs) US$98


Spartacus was a Thracian gladiator.
Little is known about his life
before he became one of the slave leaders in the Third Servile War,
which was the slave uprising war against the Roman Republic.

Spartacus may have served in the Roman army,
and it is generally believed he deserted, and led bandit raids.
It is known he was captured and sold into slavery.

In 73 BC he escaped from a gladiatorial training school
at Capua along with about 70 other gladiators.
Taking refuge on Mount Vesuvius,
along with other runaway slaves
who the gladiators trained in rudimentary combat skills.

Spartacus it is believed became one of several leaders of the Gladiators' revolt,
along with two Gauls, Crixus and Oenamus.

Initially Rome did not regard the slave army as a serious force
and did not send first line troops against it.
Spartacus' army outmaneuvered and defeated the first four forces it confronted,
which led to more slaves joining the rebellion,
and at its peak the army was believed to have been 90,000-120,000 strong.

Spartacus advocated crossing the Alps to put distance
between the army and Rome and find freedom.
One of the leaders,
Crixus wanted to attack Rome itself where large numbers of slaves would also join them.
This led to Crixus and 30,000 men leaving the main army to raid the countryside,
who were eventually defeated and killed.

Spartacus won 3 more engagements and then for unknown reasons turned south instead of crossing the Alps,
which threw Rome into a panic.
A new Roman force under a competent commander named Marcus Crassus was sent
to deal with the rebellious slave army,
and after a long period of pursuit and a few engagements,
the slave army was defeated near the headwaters of the Siler River in southern Italy.

Spartacus was killed, but his body was never found.
The Romans crucified 6,000 rebellious slaves as a warning to others.

The story of Spartacus has served as inspiration for books,
movies and tv series.
He has often been made into a symbol for oppressed people
rebelling to overturn their society,
although he actually never attempted to overthrow Roman society,
but just tried to lead his army to safety and freedom.




We now accept PAYPAL,
to purchase your figures please send your order by e-mail to
inquiry@johnjenkinsdesigns.com
after checking that everything is available,
you will be billed via PAYPAL.
your order will be shipped on confirmation of payment.
worldwide airmail 15%
(minimum postage us$15)


JOHN JENKINS DESIGNS
UNIT 6E, TOWER 2,
KING LEY INDUSTRIAL BUILDING,
33-35 YIP KAN STREET,
WONG CHUK HANG,
HONG KONG
Tel: 852 9041 9065