>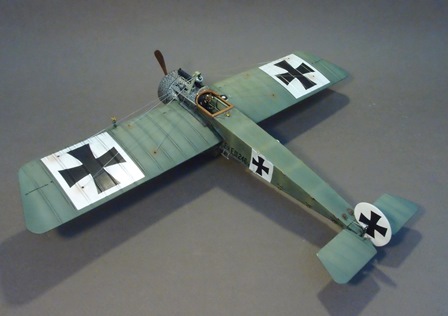 ACE-23 Fokker EIII, 246/16, Max Immelmann,
KeK Douai, June 1916 (1pc) US$238


The Fokker E.III was the main variant of the Eindecker (monoplane)
fighter aircraft of World War I.
It entered service on the Western Front in December 1915
and was also supplied to Austria-Hungary and Turkey.

The E.III was the first type to arrive in
sufficient numbers to form small specialist fighter units,
Kampfeinsitzer Kommandos (KEK) in early 1916.
Previously, Eindeckers had been allocated singly,
just as the E.I and E.II had been,
to the front-line Feldflieger Abteilungen that carried out reconnaissance duties.
On 10 August 1916, the first German Jagdstaffeln (single-seat fighter squadrons) were formed,
initially equipped with various early fighter types,
including a few E.IIIs,
which were by then outmoded and being replaced by more modern fighters.
Standardisation in the Jagdstaffeln (and any real success)
had to wait for the availability in numbers of
the Albatros D.I and Albatros D.II in early 1917.
Fokker production figures state that 249 E.IIIs were manufactured.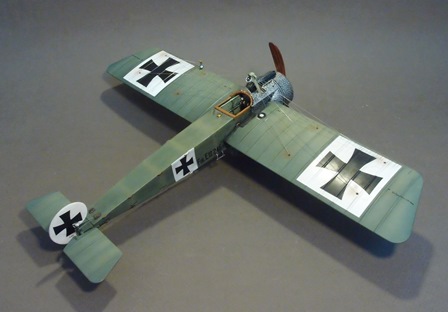 Max Immelmann scored his first victory flying the "Eindecker."
Scourge of the air during the winter of 1915,
the Fokker E.I was the first aircraft armed with a synchronized,
forward firing machine gun.
German pilots were ordered not to fly it across enemy lines
for fear the Allies would capture the secrets of the synchronizing gear.
Followed by the E.II, E.III and E.IV,
the Eindecker was underpowered and slow but could out turn most of its opponents.

Allied aviators who faced it called themselves
"Fokker Fodder" The Eindecker ruled the skies until the Nieuports and SPADs were developed.









We now accept PAYPAL,
to purchase your figures please send your order by e-mail to
inquiry@johnjenkinsdesigns.com
after checking that everything is available,
you will be billed via PAYPAL.
your order will be shipped on confirmation of payment.
worldwide airmail 12%
(minimum postage us$10)


JOHN JENKINS DESIGNS
UNIT 6E, TOWER 2,
KING LEY INDUSTRIAL BUILDING,
33-35 YIP KAN STREET,
WONG CHUK HANG,
HONG KONG
Tel: 852 9041 9065