>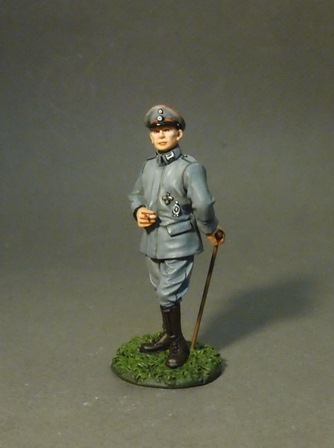 ACE-19P Lt. Hans Weiss (1pc) US$39


Leutenant Hans Weiss was a World War I
flying ace credited with 16 aerial victories Weiss scored his first victory on the 17th August 1917,
and was commissioned a leutenant in October 1917.
He then went on a streak as a balloon buster,
downing four observation balloons in a row.
Weiss followed that with four triumphs over enemy aircraft,
the last of which, his tenth win,
occurred on 13 March 1918.
He was transferred to Royal Prussian Jasta 10,
which was part of Manfred von Richthofen's Flying Circus.
He scored a single victory there,
on 28 March 1918,
before being transferred to another Flying Circus unit,
Royal Prussian Jasta 10, as a Flight Leader.
He scored his first win in his new unit on 2 April 1918.

Six days later, he was selected to temporarily command Jasta 11,
and did so until his death in action on 2 May 1918.

On that day, Weiss was flying his Fokker Triplane;
although Richthofen's Jagdgruppe used scarlet as their identifying color,
Weiss's plane was largely or entirely "Weiss" (white).
Weiss died of a bullet through the head from the guns of No. 209 Squadron's
Lt. Merrill Samuel Taylor's Sopwith Camel while attacking another Camel from Taylor's unit.


ACE-19 & ACE-19P





We now accept PAYPAL,
to purchase your figures please send your order by e-mail to
inquiry@johnjenkinsdesigns.com
after checking that everything is available,
you will be billed via PAYPAL.
your order will be shipped on confirmation of payment.
worldwide airmail 12%
(minimum postage us$10)


JOHN JENKINS DESIGNS
UNIT 6H, TOWER 1,
KING LEY IND. BUILDING,
33-35 YIP KAN STREET,
WONG CHUCK HANG,
HONG KONG,
tel/fax; 852 2553 9313