>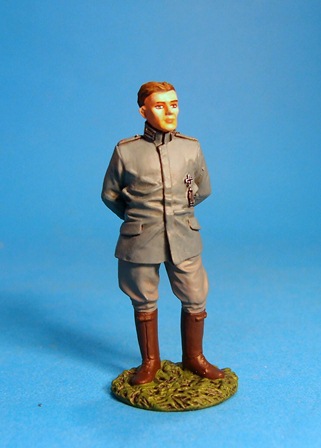 ACE-17P Ltn. Hermann Frommherz "Hard Luck Hermann" (1pc) US$37


Hermann Frommherz (10 August 1891 - 30 December 1964)
began his military career in World War I as a fighter pilot. He was credited with 32 victories.
General Major (Major General) "hard luck" Hermann Frommherz
(winner of the Knight Cross and nominated for the Pour Le Merite with 32 kills)
was born in the Grand Duchy of Baden in Imperial Germany in 1891,
and died in Baden in the Federal Republic of Germany in 1964.
A former Non-Commissioned Officer in the Jager Infantry
who served with distinction on both the Eastern and Western Front
before transferring to the Luftstreitkrafte (German Air Service)
in the summer of 1915,
Hermann Frommherz first flew two seat Aircraft,
and was finally commissioned as a Leutenant in August 1916,
and posted to Macedonia in late 1916.
In March 1917 he was transferred to the elite Jagdstaffel (Jasta)-2
which had been commanded by the legendary Oswald Boelcke
before his untimely death in 1916.
Lt. Hermann Frommherz served in Jasta-2 during "Bloody April"
and flew an Albatross-D-III called the "Blaue Maus" (Blue Mouse)
in which he gained his first 2 kills by forcing his British opponents
in a Spad-VII and BE-2c to land and be taken prisoner.

Unfortunately, his service in Jasta-2 was cut short in May 1917
when he was injured in a crash of the Blaue Maus Albatross D-III.
After his recovery Lt Frommherz was reassigned as an Instructor
and did not re-enter combat until May 1918 when he rejoined Jasta-2
to fly a Fokker DR-I Triplane.
From June 1918 to November 1918 flying a combination of Fokker DR-I's
and Fokker DR-VII's Lt. Frommherz went on a tear shooting down 30 Aircraft
including 6 very formidable Bristol Fighters which he specialized in.
It soon became obvious that Lt. Frommherz was not only a formidable ace,
but a "born leader" and he became the very highly regarded Commanding Officer of Jasta-27,
in July 1918 when Hermann Goering his life long friend was moved up.
Lt. Frommherz was nominated for the Pour Le Merite (The Blue Max) in the Fall of 1918,
but due to the Kaiser's abdication his award was canceled
since only the Kaiser could make this award.
Given the fact that Lt. Frommhertz had far exceeded the accomplishments
of many other Pour Le Merite winners,
the cancellation of his award was considered "hard luck".
None the less "Hard Luck Hermann" was frequently seen
as wearing the Pour Le Merite after the War,
although it had not been officially awarded to him by the Kaiser.

Hermann Frommhertz was a Conservative Monarchist and Nationalist,
but was well known to be unenthusiastic about the Nazi Party.
However, as a life long friend of Hermann Goering with very strong
leadership skills he initially benefited from the rise of the Nazi Party,
and became first a Colonel and then a Major General in the Luftwaffe
in the 1930's and during the early part of World War-II.
He was heavily involved in the occupation of Czechoslovakia,
but after that his lack of enthusiasm for the Nazi cause seems to have cost him,
and he was regulated to secondary commands during World War-II
and eventually placed on the retirement list.
After the war he was briefly detained by the French
and then went home to his beloved Baden.


ACE-17 & ACE-17P





We now accept PAYPAL,
to purchase your figures please send your order by e-mail to
inquiry@johnjenkinsdesigns.com
after checking that everything is available,
you will be billed via PAYPAL.
your order will be shipped on confirmation of payment.
worldwide airmail 12%
(minimum postage us$10)


JOHN JENKINS DESIGNS
UNIT 6H, TOWER 1,
KING LEY IND. BUILDING,
33-35 YIP KAN STREET,
WONG CHUCK HANG,
HONG KONG,
tel/fax; 852 2553 9313