>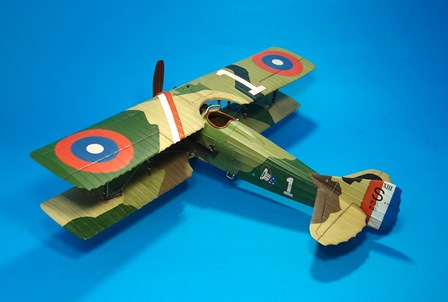 ACE-16 SPAD XIII S.4523, Captain E.V. Rickenbacker, 94th Aero Squ. USAS, Summer 1918
(1pc) US$235


The SPAD S.XIII was a French biplane fighter aircraft of World War I,
developed by Société Pour L'Aviation et ses Dérivés (SPAD)
from the earlier highly successful SPAD S.VII.
It was one of the most capable fighters of the war,
and one of the most-produced, with 8,472 built.

The 94th Aero Squadron was first organized on 20th August 1917,
at Kelly Field Texas. The squadron was deployed to France soon afterwards.

As the first American Squadron in operation, its aviators were allowed to create their own squadron insignia.
They used the opportunity to commemorate the United States entry
into WW1 by taking the phrase of tossing one's
"hat in the ring" (a boxing phrase to signify ones willingness to become a challenger),
and symbolizing it with the literal image of Uncle Sam's red,
white and blue top hat going through a ring.



ACE-16 & ACE-16P





We now accept PAYPAL,
to purchase your figures please send your order by e-mail to
inquiry@johnjenkinsdesigns.com
after checking that everything is available,
you will be billed via PAYPAL.
your order will be shipped on confirmation of payment.
worldwide airmail 12%
(minimum postage us$10)


JOHN JENKINS DESIGNS
UNIT 6H, TOWER 1,
KING LEY IND. BUILDING,
33-35 YIP KAN STREET,
WONG CHUCK HANG,
HONG KONG,
tel/fax; 852 2553 9313