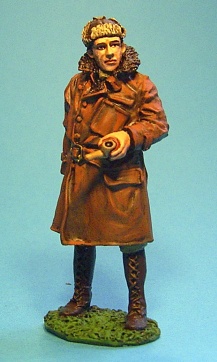 ACE-08P Major E. " Mick" Mannock, VC, DSO & 2 Bars, MC & Bar (1pc) US$36


Edward Corringham "Mick" Mannock VC, DSO & 2 Bars, MC & Bar
(24 May 1887 - 26 July 1918)

Mannock went into combat on the Western Front
on three separate combat tours.
Although initially a social misfit suspected of cowardice
in his first assignment to 40 Squadron,
he began to accumulate victories.
He took on the highly hazardous task
of balloon busting for his first aerial victory,
and by dogged concentration on his gunnery skills
tallied 15 victories by the end of his first combat tour.

After two months back in England,
he returned to France as a Flight Commander in the fledgling 74 Squadron.
He amassed 36 more victories between 12 April and 17 June 1918.

He was one of the world's first theorists of aviation tactics,
and was renowned for his prudent but aggressive leadership in the air.
By the time he rose to command of 85 Squadron,
his subordinates boasted that he never lost a wingman.

Mannock won the Military Cross twice,
was one of the rare three-time winners of the Distinguished Service Order,
and would be posthumously awarded the Victoria Cross.
He is regarded as one of the greatest fighter pilots of the war.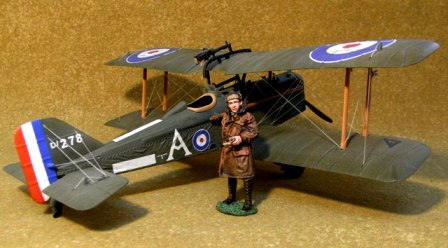 ACE-08 & ACE-08P





We now accept PAYPAL,
to purchase your figures please send your order by e-mail to
inquiry@johnjenkinsdesigns.com
after checking that everything is available,
you will be billed via PAYPAL.
your order will be shipped on confirmation of payment.
worldwide airmail 12%
(minimum postage us$10)


JOHN JENKINS DESIGNS
UNIT 6H, TOWER 1,
KING LEY IND. BUILDING,
33-35 YIP KAN STREET,
WONG CHUCK HANG,
HONG KONG,
tel/fax; 852 2553 9313