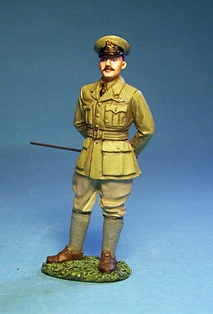 ACE-04P Captain D. R. Maclaren (1pc) US$33


Donald Roderick Maclaren (28 May 1893 - 4 July 1988)

was credited with 54 victories and, after the war,
helped found the Royal Canadian Air Force.
Maclaren joined the Royal Flying Corps in 1917
and did his initial training at Camp Borden in Ontario,
with further training in England.

On 23 November 1917,
he was sent to France where he joined No. 46 Squadron.
His first air combat was in February 1918,
where MacLaren successfully shot down a German fighter 'out of control'.

He was awarded the Military Cross for a sortie on 21 March 1918
in which he destroyed a railway gun with his bombs,
then shot down a balloon and two German LVG two-seaters.

In September,
he was awarded the Distinguished Flying Cross.
When the squadron commander was killed in a crash later in the year,
MacLaren was given command.

In late October,
MacLaren,who had escaped injury in combat,
broke his leg during a friendly wrestling match with another member of his squadron.
He was sent back to England on 6 November
and was in the hospital when the Armistice was announced.
He was awarded the Distinguished Service Order
for his leadership of the squadron in the last months of the war.

MacLaren finished the war with a Military Cross and bar,
a Distinguished Flying Cross and the DSO.
He was also awarded the French Legion of Honour and Croix de guerre.
It should be noted that his first dogfight wasn't until February 1918
and that he scored all his victories in only nine months.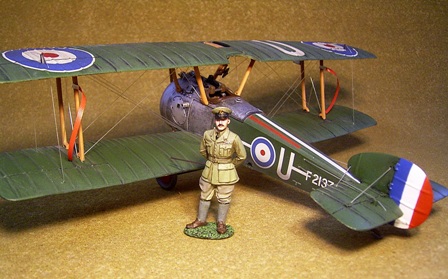 ACE-04P & ACE-04





We now accept PAYPAL,
to purchase your figures please send your order by e-mail to
inquiry@johnjenkinsdesigns.com
after checking that everything is available,
you will be billed via PAYPAL.
your order will be shipped on confirmation of payment.
worldwide airmail 12%
(minimum postage us$10)


JOHN JENKINS DESIGNS
UNIT 6H, TOWER 1,
KING LEY IND. BUILDING,
33-35 YIP KAN STREET,
WONG CHUCK HANG,
HONG KONG,
tel/fax; 852 2553 9313