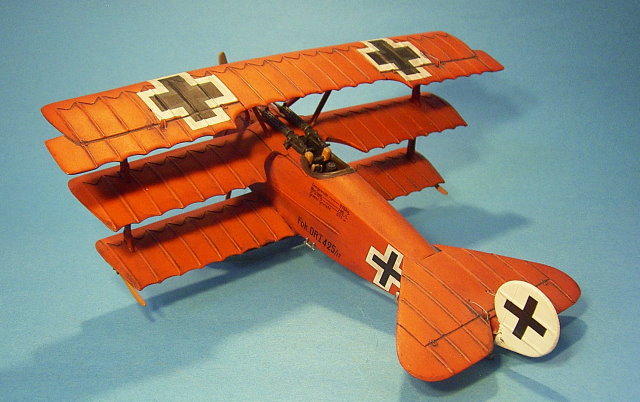 ACE-01 Fokker DR1, 425/17 Jasta 11, 21 April 1918 (1pc) US$208

The Fokker Dr.I Dreidecker (triplane)
was built by Fokker-Flugzeugwerke.
The Dr.I saw widespread service in the spring of 1918.

It became renowned as the aircraft
in which Manfred von Richthofen gained his last 20 victories,
and in which he was killed on 21 April 1918.

Compared to the Albatros and Pfalz fighters,
the Dr.I offered exceptional maneuverability.
Though the ailerons were not very effective,
the rudder and elevator controls were light and powerful.
Rapid turns, especially to the right,
were facilitated by the triplane's marked directional instability.
Vizefeldwebel Franz Hemer of Jasta 6 said,
" The triplane was my favorite fighting machine because it had
such wonderful flying qualities.
I could let myself stunt - looping and rolling -
and could avoid an enemy by diving with perfect safety.
The triplane had to be given up
because although it was very maneuverable,
it was no longer fast enough."



ACE-01 & GGC-01





We now accept PAYPAL,
to purchase your figures please send your order by e-mail to
inquiry@johnjenkinsdesigns.com
after checking that everything is available,
you will be billed via PAYPAL.
your order will be shipped on confirmation of payment.
worldwide airmail 12%
(minimum postage us$10)


JOHN JENKINS DESIGNS
UNIT 6H, TOWER 1,
KING LEY IND. BUILDING,
33-35 YIP KAN STREET,
WONG CHUCK HANG,
HONG KONG,
tel/fax; 852 2553 9313